Replenish. Strengthen. Renew.
What it is: A velvety, rich cream supercharged with next generation fermented actives to replenish, revitalise and rejuvenate chronically dry, fatigued skin. Restores your complexion to its plumped, smoothed, radiant best.
Why you'll love it:This results-driven cream acts globally to tackle the causes and symptoms of chronically dry, stressed and fatigued skin.  A concentrated complex of FutureFerments infuses skin with moisture, fortifies the skin barrier and microbiome, boosts collagen and ceramide production, ramps up skin repair and renewal while offering powerful anti-oxidant protection to deliver long term skin transformation from the inside out. With a meltingly rich, velvety texture this wonder cream leaves skin revitalised, rejuvenated and glowingly soft..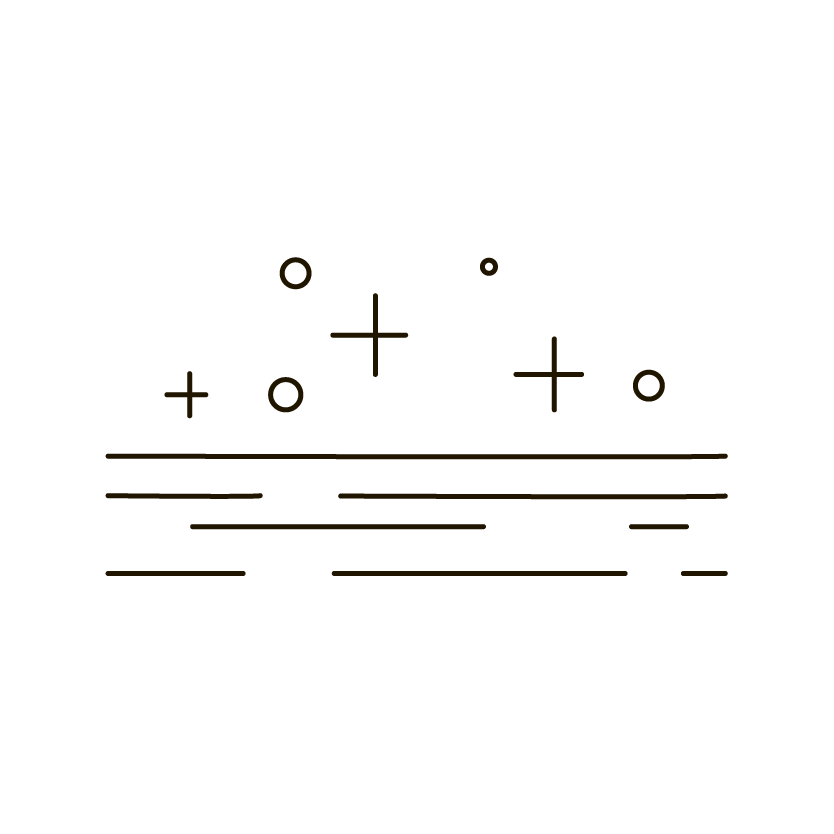 Replenish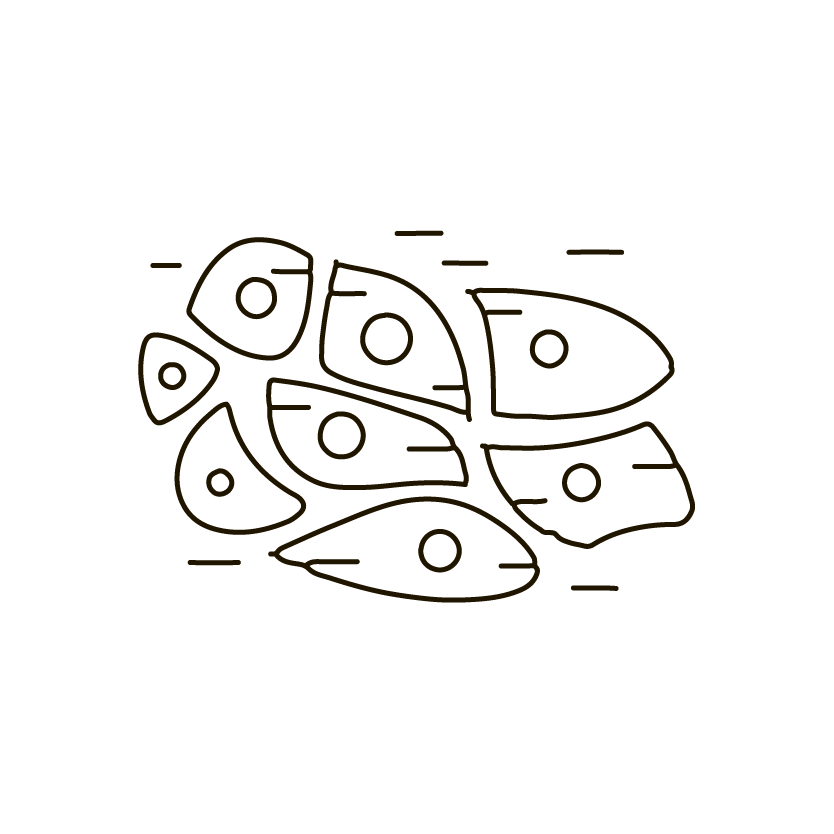 Strengthen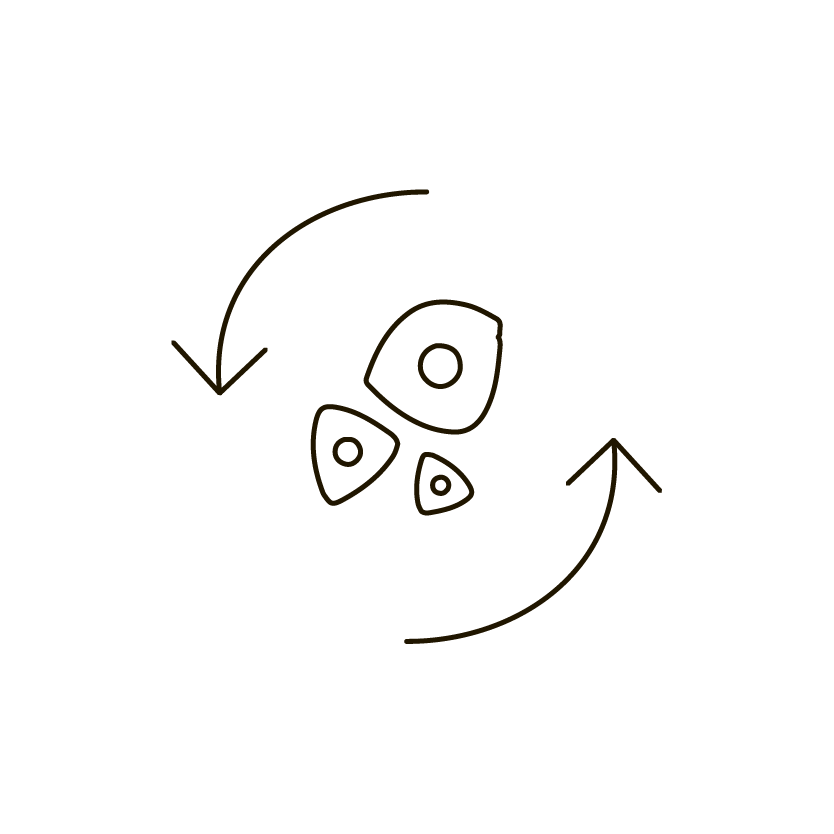 Renew
Full Ingredient List

Aqua (Water), Coco-Caprylate/Caprate, Pentylene Glycol, Caprylic/Capric Triglyceride, Glycerin, Octyldodecanol, Avena Sativa (Oat) Kernel Oil, Lactococcus Ferment Lysate, Behenyl Alcohol, Inulin, Cetearyl Alcohol, Helianthus Annuus(Sunflower) Seed Oil Unsaponifiables, Saccharomyces/Xylinum/Black Tea Ferment, Microcrystalline Cellulose, Hydrogenated Rapeseed Oil, Hydroxyacetophenone, Glyceryl Stearate, Jojoba Esters, Disteardimonium Hectorite, Maltodextrin, Xanthan Gum, Helianthus Annuus (Sunflower) Seed Wax, Sodium Stearoyl Glutamate, Propylene Carbonate, Cellulose Gum, Sodium Hyaluronate, Salicyloyl Phytosphingosine, Tocopheryl Acetate, Propanediol, O Cymen-5-ol, Citric Acid, Lactobacillus Ferment, Lactic Acid, Polyglycerin-3, Anthemis Nobilis Flower Oil, Sodium Benzoate, Sodium Chloride, Chlorella Vulgaris Extract, Potassium Sorbate, Sodium Hydroxide.
View full details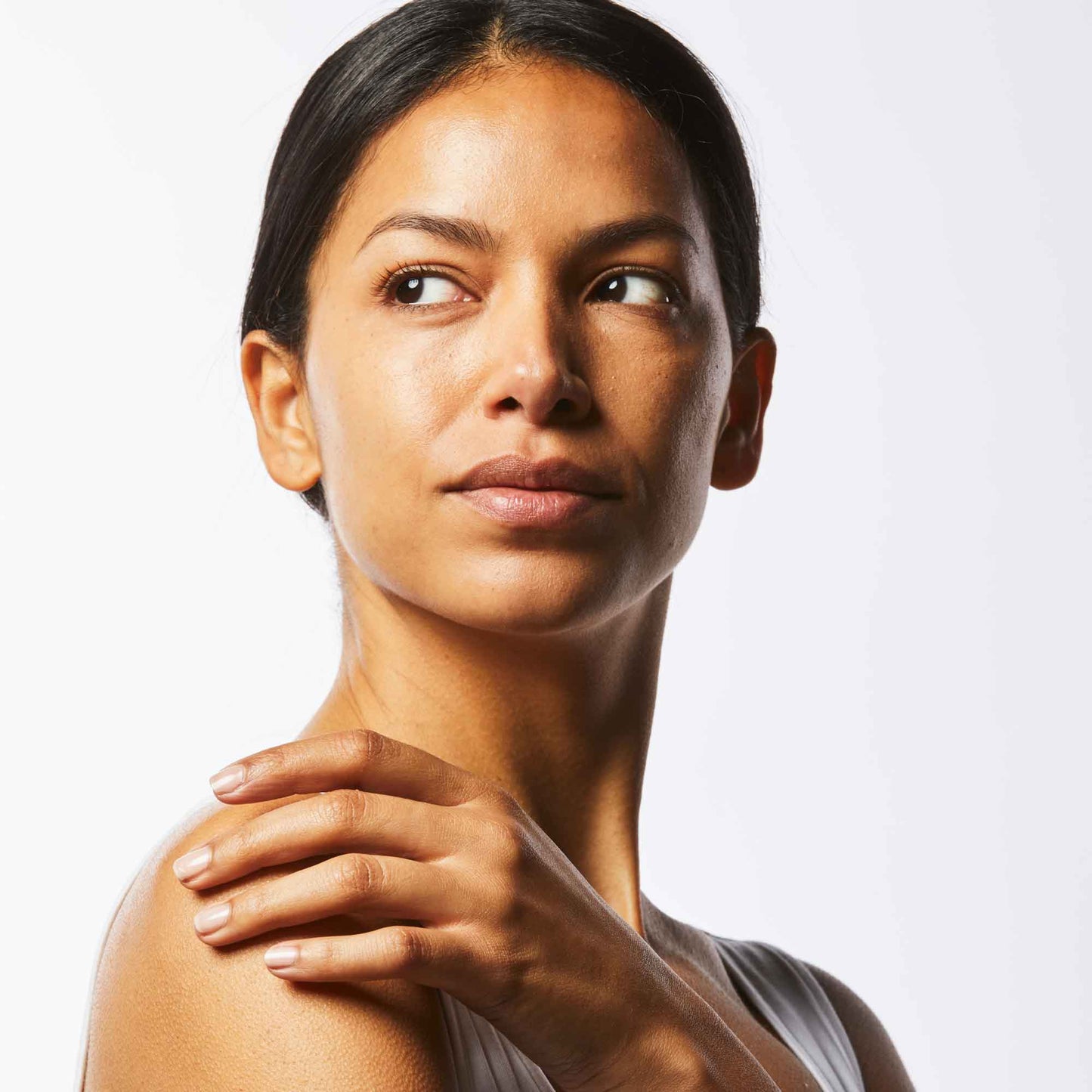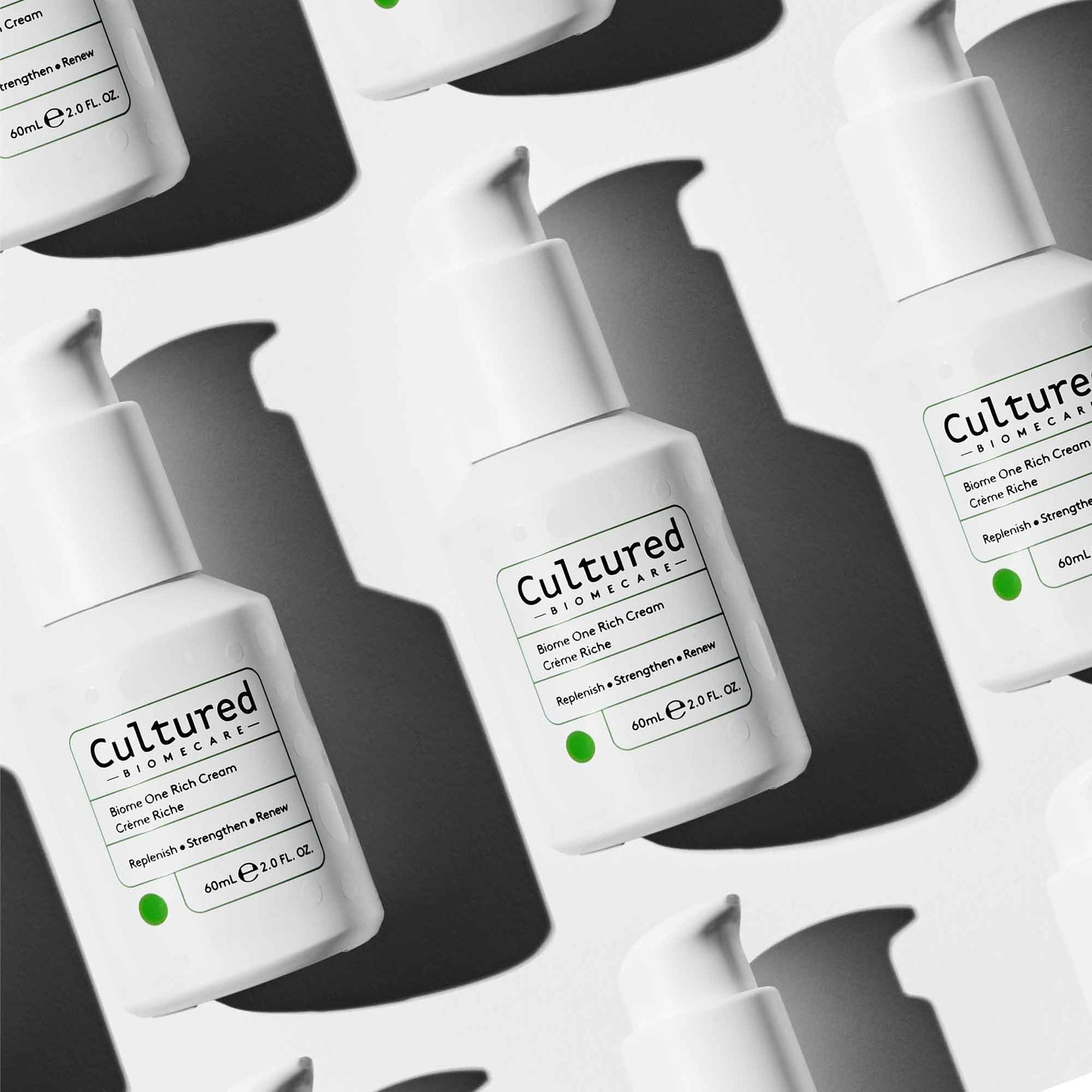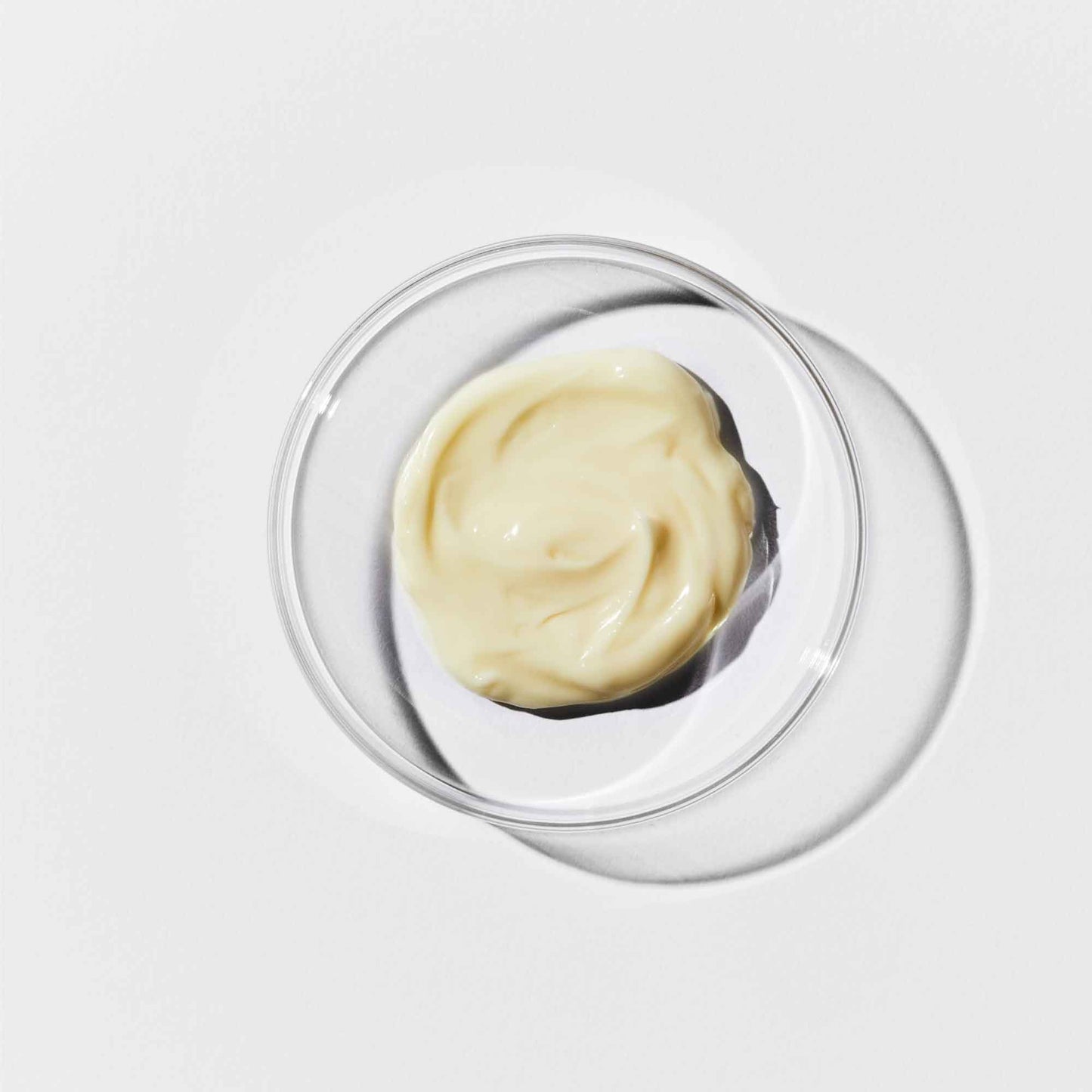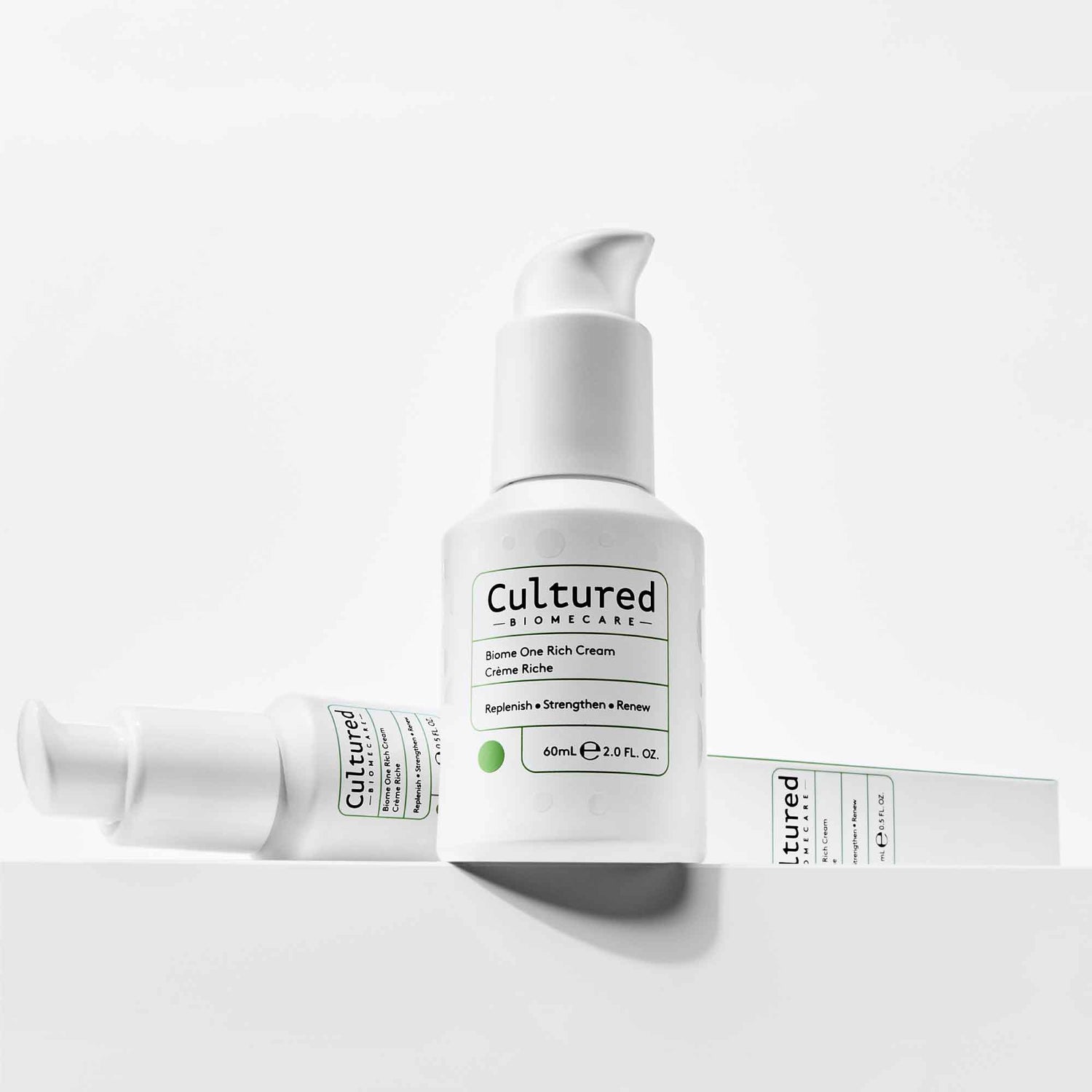 Why it's Cultured.
Dry skin is demanding at the best of times - throw gradual ageing and daily exposure to internal and external aggressors into the mix, and you've got dull skin that can feel tight, rough and uncomfortable. Cultured tackles the root causes and symptoms of dry, ageing skin by using a turbocharged complex of clinically-supported FutureFerments™. It is a revolutionary global approach to recharging skin health, skin resilience and your skin's own innate beauty.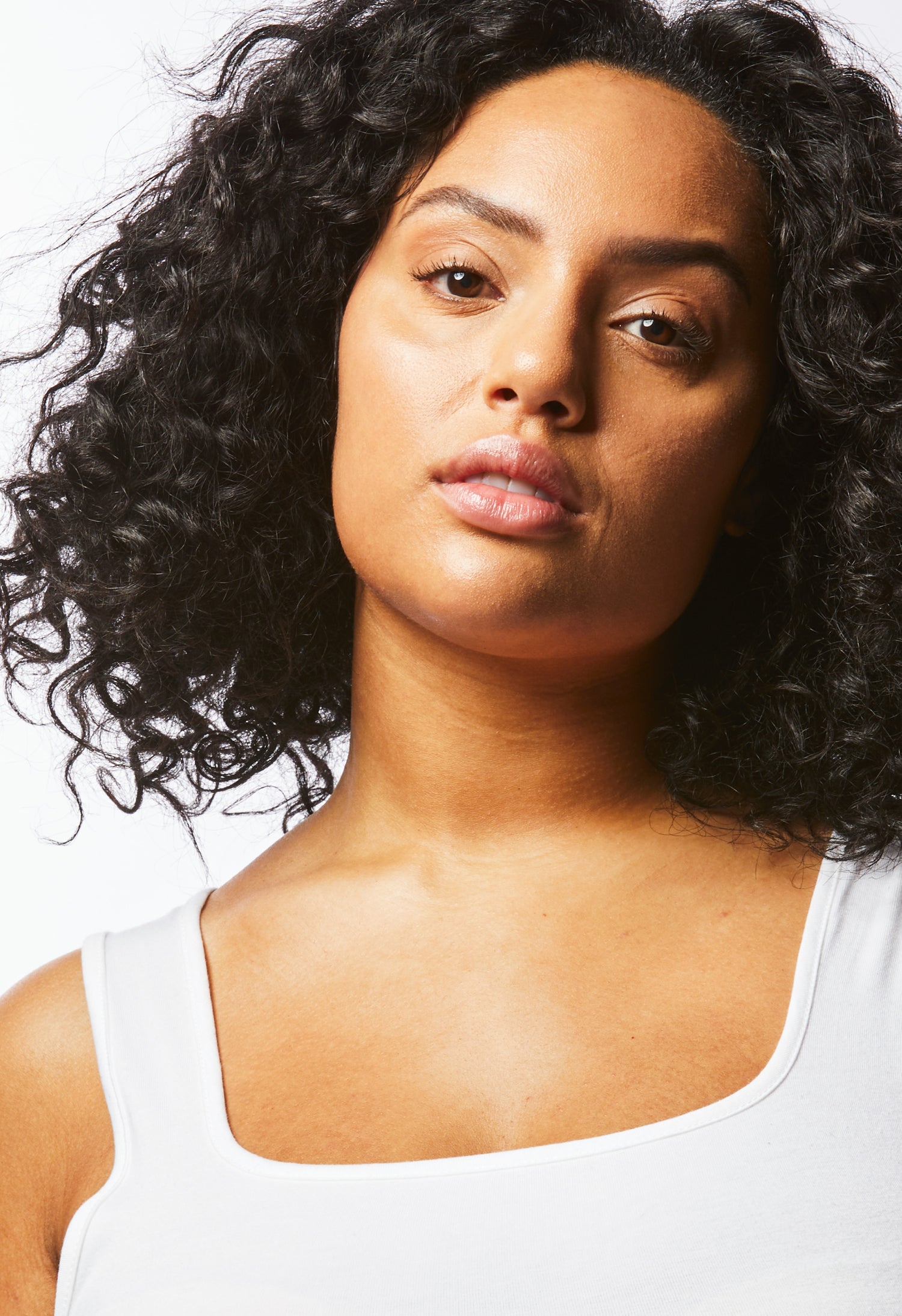 Formulated to:
Deeply Replenish & Hydrate

Up to 60% of the adult human body is made up of water, which backs the importance of hydration for properly-functioning organs. The Biome One Rich Cream takes a 3 step approach to ultimate hydration: 1) fermented HA and hydrating inulin prebiotic infuse the skin with moisture 2) a complex of Phytosphingosine, Molecularly distilled Sunflower oil and fermented Micro-algae fortifies the skin barrier and microbiome to prevent moisture loss while boosting ceramide and lipid production. 3) Oat Kernel oil and Vitamin E lock in moisture. The result? Parched skin is quenched, elasticity boosted and skin smoothness restored - long-term.

Recharge Skin Vitality & Renewal

As skin ages, its ability to renew and defend itself slows down which leads to drier, thinner, duller skin. Using a complex of Fermented Micro-Algae and Fermented Lactococcus Lactis, our Rich Cream accelerates epidermal growth and renewal which improves barrier strength, microbiome resilience and overall skin quality and function. Skin is smoother, brighter and glows with renewed health and dynamism.

Promote Skin Self-Defence

Your skin's health and radiance are largely dictated by its exposure to environmental stressors. Extreme weather and pollution can upset the delicate balance of the microbiome, leading to an array of hard-to-treat skin issues. The solution? To arm your skin with its own ammunition: a strong, resilient lipid layer – the skin's first line of defence. Biome One Rich Cream uses powerful FutureFerments™ to support the skin's natural regenerative function and maintain a diverse and thriving microbiome for long-term skin health.

Streamlines your Skincare

Cultured's sustainability ethos encourages less waste, allowing you to adopt a more streamline routine that's better for your skin, and the planet. The Biome Rich Cream is a multi-tasking, multi-benefit product that offers global support without the need for multiple serums, creams and extra ingredients.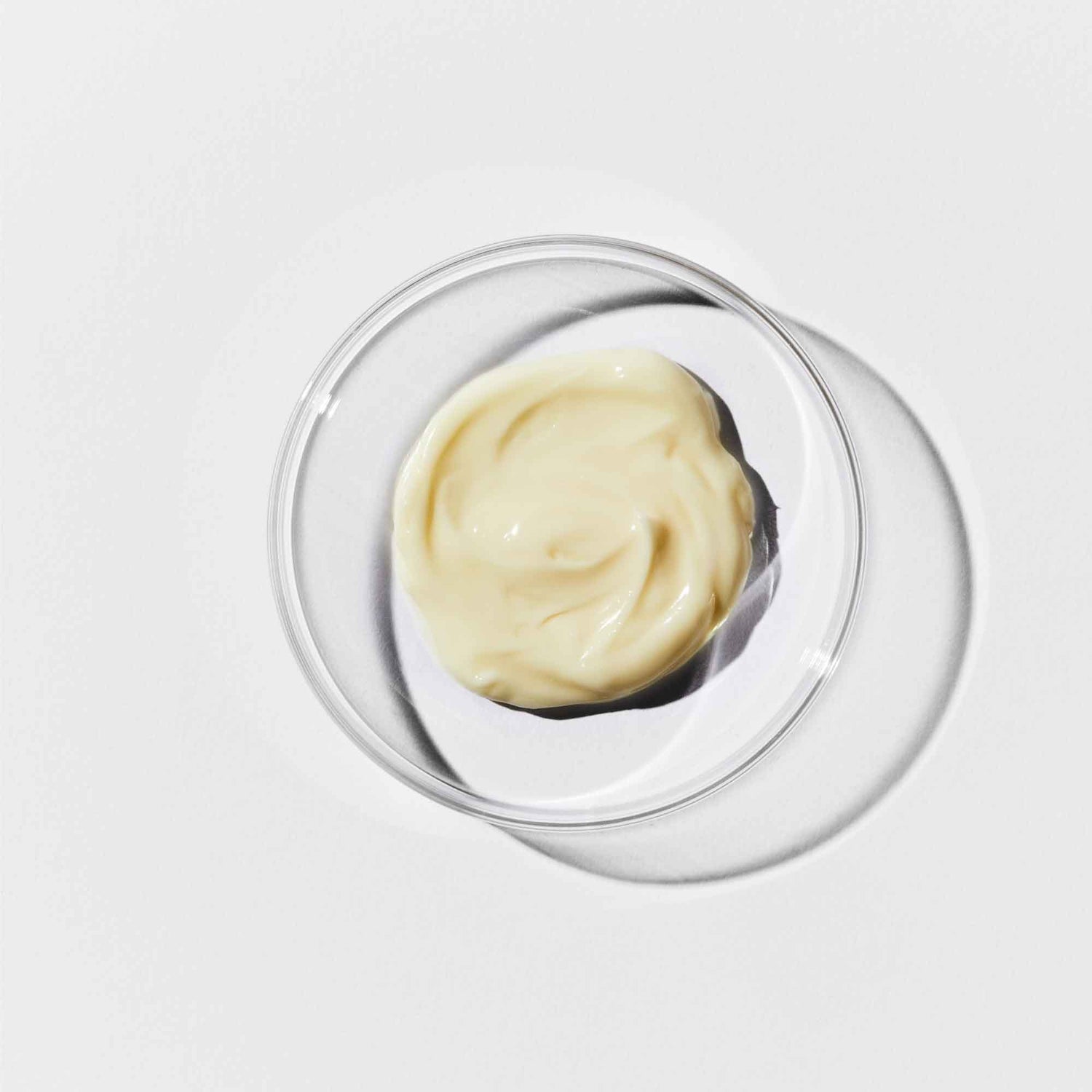 How to use
Apply morning and evening to clean, dry skin for an essential dose of hydration and skin-strengthening actives. Don't neglect your neck.
Great all rounder
It's always daunting when you buy a new brand that you've never tried before, but I'm very interested in the skin microbiome and always try to use skin care that promotes it. I was very excited to try the new rich cream and have not been disappointed. I've even had a couple of comments about how radiant my skin looks and what had I done or used differently. It's a nice rich cream but doesn't feel heavy on your skin and is perfect for my menopausal skin! I have a tendency to mild rosacea and this seems to also be kept under control with this cream. One to definitely recommend!
My skin definitely has an enhanced glow
I have thoroughly enjoyed the Rich Cream, it applying richly and soaks into the skin easily. Leaves my skin feeling extremely soft and hydrated.
Have noticed over the past few weeks that my skin definitely has an enhanced glow and have received compliments on how improved my skin looks. This in itself is a win win.
I absolutely love this product.
It has a very light, fresh fragrance and always sinks into my skin extremely quickly.  Despite appearing and feeling like a light cream, it packs a punch of hydration and consistently makes my dry, mature skin soft and well moisturised.  It has caused absolutely no irritation to my slightly sensitive skin, and does not interfere/hinder the application of my usual make up products in any way. 
Over time, probably due to its effective hydration abilities, it has made my skin look smoother and seems to have blurred some of my fine lines, especially around my mouth.  I like the fact that it comes in a bottle with a pump dispenser, which I think is a much more hygienic method of delivery compared to dipping fingers into a pot of product.  I have already recommended this product to my friends and family and have no hesitation in recommending it to a wider community. I intend to make a permanent part of my skincare routine.
My skin is much healthy and soft thanks to this beautiful product
I am over the moon how lovely is this rich cream . arrived well packed and as you notice in my selfie photo my skin is much healthy and soft thanks to this beautiful product .
I am using in the morning and evening along with the cultured biomecare serum and the results are really great. this wonderful cream and now is part of my skincare routine . The texture is lovely and absorbes very well into the skin , the cute bottle with the pump is really good because preventing the spill of the cream which I notice in few products I received and I think are great like that.
Compliments on how radiant my skin looks
"I've used the cream for over a week now. First thoughts, nice texture, smooth and sinks into skin well. Good under make up, the product doesn't 'ball up' under make up. Wasn't particular wowed but a good start.
I have combination skin and after a week or so of using the cream everyday my skin feels extremely well looked after. My fine lines, and even some larger lines, have definitely improved, my skin is smooth, subtle and plumped out a bit. I haven't had any blemishes or break outs, in fact I think my pores might have improved, it's certainly stronger and smoother. I've even had a few compliments on how radiant my skin looks at the moment (even after a few night shifts where i normally look a little worse for wear!). I'm usually a multi product girl but actually I've just used this alone most days as I felt it did plenty for me and I didn't need any of the extra serums and creams.
Overall, I'm really impressed with this cream and the brand itself too. Love the science behind the product, shows real work has gone into, unlike other cheaper brands. Nice simple, recyclable packaging and products are cruelly free to animals too!"
Leaves my skin feeling bouncy and plump.
I love the packaging for this cream. The glass bottle feels very luxe and I love that there is a pump dispenser. It's easier to use and is a lot more hygienic than a regular jar. It's also great that the pump can be opened and closed by turning, so it's perfectly safe to travel with and no worries about accidentally triggering the dispenser.
The cream does indeed feel rich and is super moisturising. But it doesn't feel heavy or overly greasy on the skin and is absorbed pretty quickly.
The cream has an unusual /interesting fragrance, I can't place it. The fragrance is mild, I quite enjoy it and it disperses quickly for people who don't enjoy any fragrance.
The cream hydrates and moisturises my skin and leaves my skin feeling bouncy and plump.
My skin feels smoother since I've been using the cream. My lines and wrinkles looked softer and less visible.
My skin redness has reduced and overall my skin looks healthier and more radiant. I will continue to use this cream.